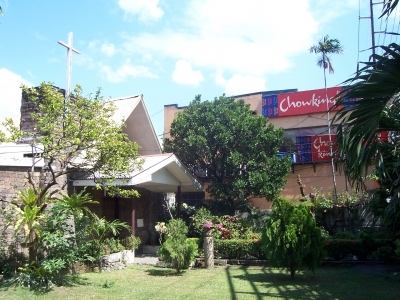 [wpgmza id="7″]
Re-do and publish five hymnals and five editions of Luther's Small Catechism in five Filipino languages
Guest professor/s at seminary
Refurbish Lutheran Church Philippines seminary, Baguio
Refurbish church and & build parsonage, Baguio
We have just recently received the latest edition of the newsletter of the Lutheran Church of the Philippines. It can be read below, or downloaded and printed out using the link below the window.
Download (10-LCP-Fall-Newsletter-2013.pdf)
Trip Notes
TRIP NOTES
The LUTHERAN CHURCH of the PHILIPPINES
28 FEBRUARY – 20 MARCH, 2013
And so here we are again, this time on route to the Philippines. I had to cancel my last scheduled trip there (November 2012) cause I just could not walk – my hip needed to be replaced. And God, being good and gracious, provided for that to take place and in such a way (anterior method) that my right hip was replaced (total) at noon on one day and I walked out without a cane or crutch 40 hours later (about the same number of hours it takes to get here to Lutheran Theological Seminary, Baguio, Philippines from Brooklyn Park, MN). more »
The Confessional Lutheran Education Foundation
PO Box 43844
Minneapolis, MN 55443-0844
TheCLEF@TheCLEF.org
January 2012
CLEF greetings!
We are off to the Philippines. The ILHP – Philippines (hymnal project) is gathering steam! We will work on finding a printing company. Also the Continuing Pastoral Education program will run for two weeks. The course for all the church bodies pastors will be taught in Quezon, Isabela, Philippines. more »
CLEF greetings!
We are off to the Philippines. The ILHP – Philippines (hymnal project) is gathering steam! We will work on finding a printing company. Also the Continuing Pastoral Education program will run for two weeks. The course for all the church bodies pastors will be taught in Quezon, Isabela, Philippines. You can find it at the following web site:
http://en.wikipedia.org/wiki/Quezon,_Isabela And we will also be coordinating the Mercy Word Project – this year the building of a parsonage with the congregation in Quezon, Isabela. more »