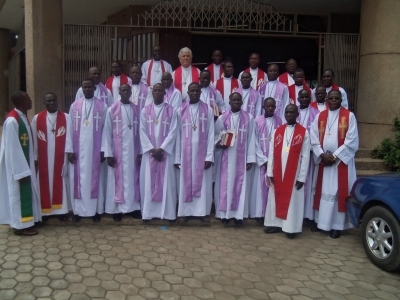 [wpgmza id="3″]
English hymnals for English-speaking congregations
Seminary computer support
Guest professor/s at seminary
Continuing education support for assistant to President Fynn
Support for the national youth gathering of the ELCG
Publication of Lutheran hymnary in six languages
Publication of Luther's Small Catechism in six languages
Publication of agenda and lectionary in six languaes
Trip Notes
This set of notes reveals the "new" CLEF project for Confessional Lutheran Education throughout the Lutheran world of The CLEF!
The CLEF :
INTERNATIONAL LUTHERAN KINDLE PROJECT (ILKP)
The Beginning:
Recovering the Neglected JEM Seminary
The largest confessional Lutheran seminary in Africa, the Jonathan Ekong Memorial seminary, is located just north of the equator in one of the most neglected and forgotten regions of the continent, Akwa Ibom, Nigeria. A small state on the coast of southern Nigeria, Akwa Ibom is just east of Niger River delta, a region that has gained a notorious reputation recently for the periodic kidnapping of foreign oil workers. While Akwa Ibom remains on the fringe of that Situation, more »
A MIRACLE TOOK PLACE – OVER NIGHT THE LAPTOP STARTED WORKING. I USED TO TO CHARGE THE PHONE AND THE CAMERA AND OVER THE NIGHT IT DRAINED THE BATTERY DEAD AND THAT SEEMED TO DO THE TRICK.
HOWEVER – WITH CONSTANT INTERRUPTION OF ELECTRICTY AND LITTLE IF ANY INTERNET SERVICE – NOTES HAVE NOT BEEN WRITTEN OR SENT SAVE FOR THE THREE PREVIOUS ONES.
HERE IS SOME OF WHAT WAS NOT SENT PREVIOUSLY – WITH A FEW ADDITIONS – THE DATES WILL NOT HAVE MUCH MEANING AS I TRY TO FILL IN WITHOUT REMEMBERING DAYS. more »
A SAD NOTE TO ALL CLEF NEWS AND SUCH READERS:
MY COMPUTER IS VERY SICK AND IT LOOKS LIKE IT WILL NOT BE ABLE TO BE USED FOR THE REMAINDER OF THE TRIP. THAT MEANS IT WILL BE DIFFICULT TO SEND NOTES AND SUCH FROM THE PAST DAYS AS THOSE WORD DOCUMENTS ARE NOT AVAILABLE. more »
CONFESSIONAL LUTHERAN EDUCATION FOUNDATION
PO BOX 43844
MINNEAPOLIS, MINNESOTA 55443-0844
GHANA – TRIP NOTES – MAY 2012 #1
PRENOTES:
I'm thinking I could start this like the last set of The CLEF African notes – you remember: the nanny Dutch airline that serves Bio-Organic Light bread spread because I apparently do not know what I ought to eat and what not to eat. But I won't start that way.
Yes, The CLEF is off again to Ghana, West Africa to continue her work with the Evangelical Lutheran Church of Ghana (ELCG). We have several coordinated projects with the ELCG.
As you all likely know, The CLEF is working with the ELCG to produce a standard hymnal for the major languages used within the ELCG. These hymnals will also include common liturgies, prayers, Luther's Small Catechism, the lectionary and more! more »
CONFESSIONAL LUTHERAN EDUCATION FOUNDATION
TRIP NOTES FOR
GHANA, WEST AFRICA – AUGUST 2011
Seriously, "BIO/ORGANIC light" was the label on the freaky stuff offered by the nanny airline from Europe to spread on the bread. What ever happened to just good old butter? I am pushing ever closer to the age of retirement and I do not need the Dutch to determine that it is better to put unknown chemicals on my food. Something is run amuck!
So I don't get you too lost, I was on a plane from Amsterdam to Accra (Ghana). I am now in Tema, Ghana – about 22 miles from the Accra airport. I am staying at the Scandinavian Lodge . . . . nothing resembling Scandinavia at all. more »